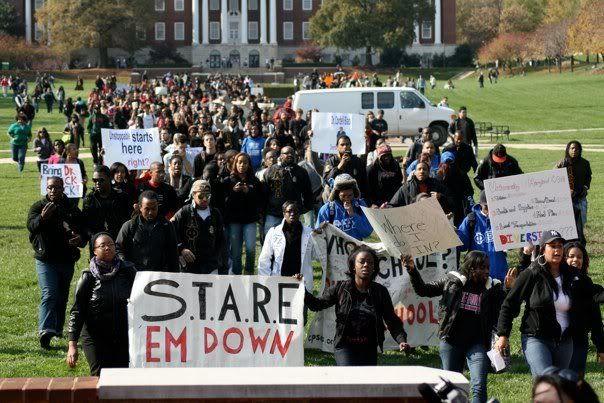 Reportback from U of MD College Park SDS:
Last night an emergency mass meeting was called by students at the University of Maryland – College Park in response to the dismissal of Associate Provost for Equity and Diversity Dr. Cordell Black. Over 700 students and faculty packed the basement of the Nyumburu Cultural Center and excoriated the administration's weak commitment to diversity and accessibility, as well as their use of the school's budget shortfall to push a corporate agenda for the university. Provost Farvardin wants to turn our school into a "public Ivy" corporate playground for research and investment, while slashing less profitable humanities and cultural studies departments.
During the open mic portion of the mass meeting, one student called for a rally for the next day at noon. Today, over 600 students and faculty marched from Nyumburu to the lily-white front steps of the administration building and rallied there for half an hour. Our work on the larger political context of the university budget crisis in the past year allowed CP-SdS organizers to play key roles in facilitating the mass meeting and planning the rally. Before we left, we left our thoughts taped to the front of the building.
Our demands at this time are for:

1. The reinstatement of Dr. Cordell Black as Associate Provost for Equity and Diversity.
2. Public release of all budget and diversity records and documents.
3. A moratorium on all further firings and academic "reorganizations" until students, staff and faculty are given seats at the table.
The newly formed STARE coalition (Students Taking Action Reclaiming our Education) has called for a second mass meeting this Tuesday to decide on further action.
More photos after the jump